Non-Contacting Bulkhead Shaft Seals
Non-Contacting Bulkhead Shaft Seals Improve Safety and Reduce Costs
Mide's innovative line of non-contacting HydroActive™ bulkhead shaft seals provides an extremely reliable and low total ownership cost sealing solution. Developed for the US Navy, the patented design utilizes hydrogel embedded foam to engage and seal against the spinning shaft only when water is present. By not touching the shaft during normal operation the seal can withstand any shaft speed and substantial shaft motion without any wear - reducing maintenance costs significantly.
---


>> Download bulkhead shaft seal and stern tube seal highlights (pdf)
---
Bulkhead Seal Products:

Omni:
Omni seals are designed for vessels that don't have the large shaft radial deflections typically required for naval ships. With fewer components, the non-floating Omni seals are significantly less expensive and easier to install and maintain.
Reliant RM:
The Reliant RM range of bulkhead seals are cartridge or diaphragm replacements for ships that already have bulkhead seal housings. For these ships, Reliant RM seals offer a cost effective retrofit solution, along with all of the advantages and benefits of Midé Marine HydroActive™ technology. Measurements on Reliant RM seals, installed on US Navy ships, concluded that the non-rotating seals offer superior wear performance over existing diaphragms that rotate with the shaft.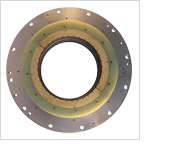 Reliant YM:
Reliant YM is the next evolution seal design in which total system weight is reduced and maintenance is simplified. Instead of a housing, the Reliant YM series uses flat interface plates bolted to the bulkhead, on which the seal floats, to allow for large radial motions of the shaft. Reliant YM seals are installed and operating on many vessels.
Bulkhead Seals Comparison Table
| Specifications | OMNI | RELIANT |
| --- | --- | --- |
| Shaft Diameter Range | 50 to 1000 mm | 75 to 1000 mm |
| Operating Pressure | Tested to 30 psi | Tested to 30 psi |
| Leak Rate | Less than 473 mL/min, 0.125 GPM | Less than 473 mL/min, 0.125 GPM |
| Shaft Deflection | Up to 10 mm | Up to 50 mm |
| High Angle/Vertical Operation | Yes | Yes |
| Shock Approved | No | Yes |
| Self Centering | No | Yes |

HydroActive Technology
Foam with embedded hydrogel particles is the key technology that enables our HydroActive™ seals. The foam is placed inside a lip seal that is not normally in contact with the shaft. The hydrogel particles absorb water during a flooding event, and, as the particles swell, the foam pushes the lip seal into contact with the shaft - creating a water tight seal.
In summary, under normal operating conditions, no part of the seal is in contact with the shaft - allowing for unlimited shaft rotation speed without any seal wear. During a flooding event, the engaged lip seal still allows the shaft to rotate, allowing the stricken ship to reach a safe haven.
Operational Need
Watertight bulkheads are a key safety feature for any ship. Sealing around pump, propulsion or any other spinning shaft as they penetrate these interior bulkheads is challenging. Most of the products available either rotate with the shaft or are constantly in contact with the shaft. Radial and axial shaft motions, shaft run out, high shaft angles or vertical shafts, vibrations, poor shaft to bulkhead alignment and air pressure differentials cause these products to wear prematurely. This wear ultimately leads to a seal that will not work when it is needed or will be very expensive to maintain.
Any marine bulkhead seal application is suitable for Midé's HydroActive™ bulkhead shaft seals. Substantial total ownership cost reduces for systems with substantial shaft speed or shaft motion are ideal for HydroActive™ seals, these include:
Waterjet propulsion systems
Cardan Shafting
Pump Shafts
Dredgers
Composite Shafting.
Mide's Reliant product line provides all of the HydroActive™ benefits along with shock (MIL-S-901D, Grade A) qualification, vibration (MIL-STD-167-1A) qualification and very large allowable shaft deflections. Midé's Omni product line provides all of the HydroActive™ benefits at a cost point which offers substantial reduction in total ownership cost.
Not Just a Bulkhead Seal
Midé Marine's HydroActive™ technology is not limited to propulsion shafting; it can be customized to create watertight integrity for a variety of environments - including Dredger pump shafts. HydroActive sealing technology also provides the unique capability of sealing regardless of orientation.
While many seals on the market today are affected by gravity, Midé Marines seals can work vertically, horizontally, or anywhere in between - from sealing pump casings that run between compartments, to riser pipes on oil rigs.
Navy Successful Transition Story
This is a one page article published by the US Navy to highlight successful SBIR/STTR Program R&D to product transitions - Click for Story (PDF).
Benefits & Features of the HydroActive Seal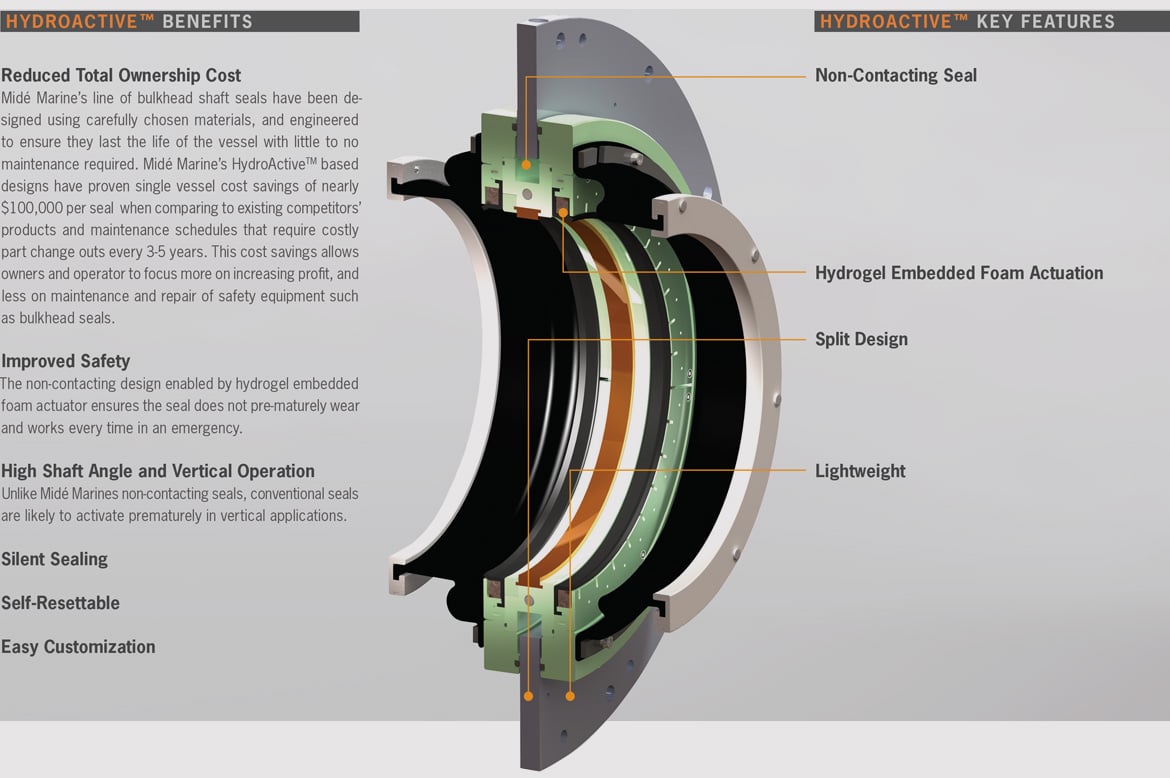 HydroActive Seals - Brochure and Price List
Mide HydroActive Bulkhead Shaft Seals are available for use on all vessel platforms including commercial and military applications. Download the brochure and/or contact our Sales Engineers for more information and pricing.
How it Works Video
HydroActive Seal Demonstration