Serious Dredger Incident Highlights the Benefits of Mide's HydroActive Bulkhead Seals.
Flooding stopped on Dredger with Mide's HydroActive Bulkhead Seals.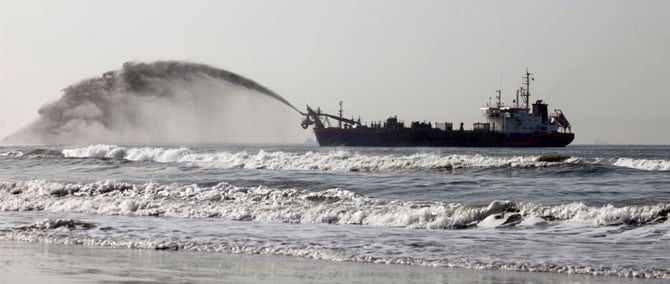 One of our customers recently sent an email describing a flooding event on one of their fleet's dredger vessels. The shaft and seal were at an angle between the pump room and electric motor area. Although any flooding event is unfortunate, the outcome could have been worse. The seal preformed successfully - as expected. The Midé Bulkhead shaft seal prevented water leakage into the electric room, thus saving significant equipment damage. Not only were additional repair costs avoided, but this reduced vessel downtime for repairs. As a note; Mide's competitors offer bulkhead shaft seals that cannot operate in vertical applications.
Mide appreciates input from our customers. So hearing that our seal delivered the protection to a company's dredging vessel was a great message. To further the good news, Midé Marine's Hydroactive Bulkhead Shaft Seal (BSS) will reset to its original state (pre-flooding event) and be ready if needed again. There is no need to replace the seal.
Midé Marine's Bulkhead Shaft Seals do more than contain flooding events, they protect the assets, equipment and life on the other side. Uncontrolled flooding events increase the loss of expensive equipment, or worse, and extend the vessel down time from delivering its intended mission for longer repairs.
Contact us for more information