About Us
---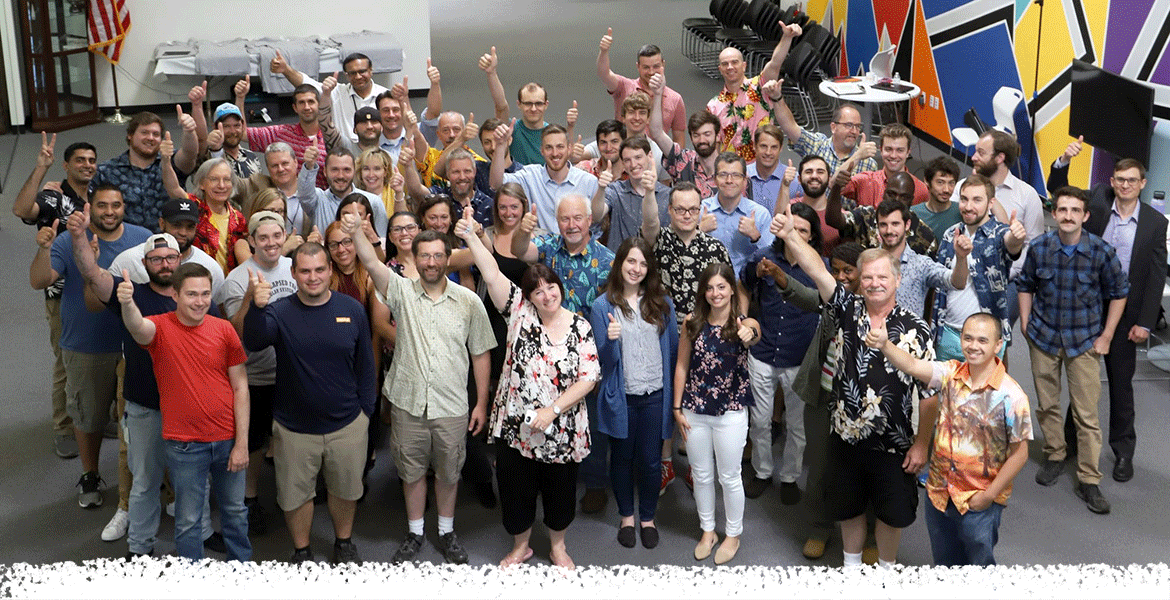 Goodness, respect and the meeting of obligations are literally the meaning of Midé and we, as a team, try to live those values each and every day. We are committed to ensuring a work environment that emphasizes inclusivity, respect for differences, acceptance and respect for all workers.
We know words can only do so much, but we thought it was important for the Midé team to hear that we have always been and will remain steadfast in our commitment to inclusion and equality. Currently, we have employees from many countries; including, South Africa, Russia, Italy, Australia, United Kingdom, Columbia, Jamaica, Armenia, and Trinidad.

Tienie van Schoor - CEO
Mission Statement:
Create high-value innovative products
Vision Statement:
An agile company with proven ability to develop advanced engineering solutions. With the customer as part of the team, Midé generates innovative ideas, taking them from concept to product. Midé excels and delivers superior results when confronted with the most challenging of opportunities.
We take pride in helping you succeed.
Quality Policy:
Midé Technology Corporation is a leading provider of advanced engineering products and services. Midé is committed to providing customers with high-quality deliverables that are on-time, on budget, and meet their expectations through the use of a quality management system focused on continual improvement. Midé uses industry best practices in both execution and cost effectiveness.
---
Mide is a Hutchinson Company
| Hutchinson, Mide & Mide's Brands
Mide is a Hutchinson Company. Mide's Brands include: enDAQ shock, vibration & environmental sensors & software; Piezo.com Offering high-value piezoelectric products and expert solutions; and Mide's HydroActive Seal Products.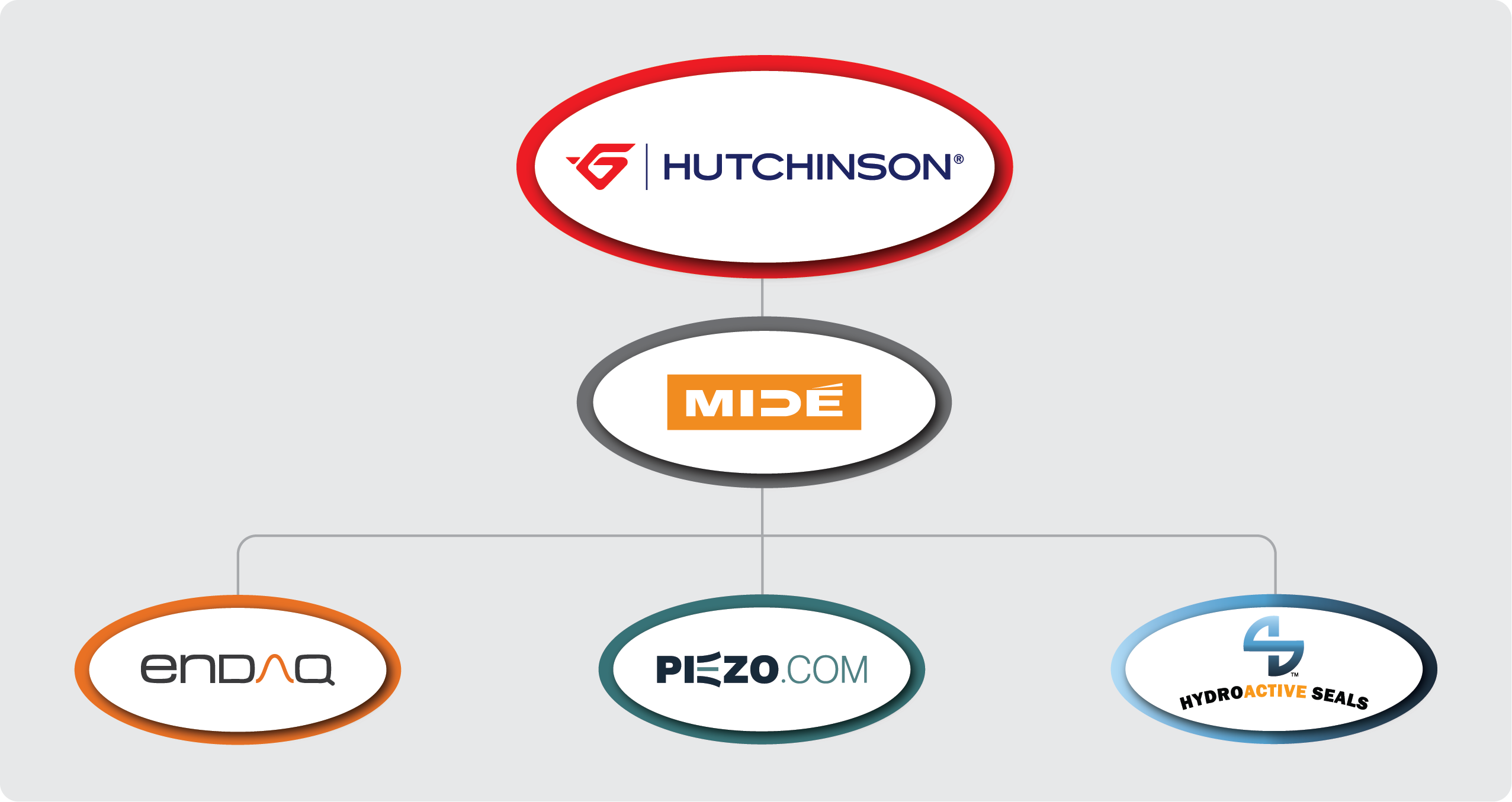 ---
Mide's History Timeline
Team Assembled in Cambridge MA.
Dr. Marthinus van Schoor, a Ph.D. graduate of the Massachusetts Institute of Technology (MIT) Department of Aeronautics and Astronautics assembles a high-powered team of practical experts... and Mide is launched.
May 1989
Mide Awarded First R&D Contract
Magnetic Active Rubber Isolation Mound
1994
First Phase II Sbir Awarded
Area Averaging Sensor
1997
First Commercial Spinoff
Continuum Dynamics
1989
International Space Station
Development, qualification and delivery of 18 "Positive Pressure Relief Valves" for the International Space Station
1993
First US Patent Awarded
Area Averaging Sensor
2000
Mide Moves!
Mide's growing company moves from Kendall Square in Cambridge to 200 Boston Avenue, Medford
2001
Mide's First Aquisition
Mide Acquires Cymer's ACX Piezoline
2002
Piezo Production Starts
Mide starts its own line of piezoelectric transducers
2003
BSS Phase I US NAVY Grant Awarded
This is a significant first milestone to the start of Mide's suite of HydroActive Bulkhead Shaft Seals
2004
Mide Launches eCommerce Website
Mide launches eCommerce website for customers seeking to primarily buy piezoelectic products online.
2006
First BSS Seal Installed!
First Reliant™ Bulkhead Shaft Seal Installed
2007
Slam Stick Launched
A significant first milestone for the Slam Stick suite of shock and vibration data recorders
2010
BSS - First Reliant™ Commercial Sale
HydroActive Bulkhead Shaft Seal sold to a Polar Research Vessel
2011
BSS - First Omni™ Commercial Sale
Omni HydroActive Bulkhead Shaft Seal sold commercially
2011
Woburn Opens
Mide's Production Facility at Woburn opens.
2012
Slam Stick Awarded Navy Rif
Slam Stick Awarded Navy Rif to enhance capabilities of Slam Stick's existing vibration data logger.
2012
BSS - LCS Vessels
First Installation of Mide's HydroActive Bulkhead Shaft Seal installed on US Navy's line of LCS Vessels
2014
Slam Stick X launched
Mide launches its line of Slam Stick X Data Recorders. Since launching Slam Stick has been re-branded to enDAQ.com
2014
Mide Acquires Piezo Systems
Mide acquires leading piezoelectric company, Piezo Systems (Piezo.com), to help grow its line of piezoelectric products and expertise services.
2017
Mide Acquired By Hutchinson
July 19th, 2019 - Midé is proud and excited to announce that it has been acquired by Hutchinson Corporation, a large US business which is a wholly owned subsidiary of Hutchinson S.A. based in Paris, France. Midé is looking forward to continuing its engineering development programs and marketing/selling our expertise and products to the US government and commercial customers
2019
Mide Launches enDAQ.com
Mide launches enDAQ.com. Mide has rebranded its Slam Stick data loggers, and built a dedicated site for shock, vibration and environmental sensing systems. Welcome to enDAQ (engineering DATA ACQUISITION).
2019
enDAQ Launches Cloud Platform & W8 Sensors
December 23rd, 2020 - Midé's enDAQ shock and vibration acquisition and analysis platform has launched the enDAQ Cloud platform. It allows the user to remotely & conveniently upload, access, organize and share raw data from your device to enDAQ's Cloud platform - no gateway needed. It has been developed in conjunction with the new W-Series WiFi enabled shock & vibration sensors to upload data to your Cloud Account in real time.
2020